ORION SERIES



5.25" Automated Storage Libraries

Intuitive User Interface Panel
Dynamic Automatic Alignment (DAA) System
Distributed Power Source
Advanced Network Control System
Built-in Diagnostics for all control modules

High Performance

Orion Series storage devices are performance-oriented in design. Sporting such features as Dual Cartridge robotic pickers, Orion units allow for disk exchanges as fast as 3 seconds. DISC's industry-exclusive Barcode Inventory Option allows for fast and efficient data archive retrieval. The end result is seamlessly quick and efficient data delivery to the user.





Flexible Design

Orion Series libraries benefit from flexible design architecture and scalable option of holding 150 to 1,000 disks per appliance. In addition, the device has the option of holding anywhere from 2 to 32 optical drives and is field-upgradable, resulting in a storage device that can grow alongside your business for years to come.

Features

The DISC Orion lineup is distinguished by its high data availability, allowing up to 32 drives to be accessed at one time. Coupled together with multiple SCSI buses and its small footprint, Orion is a powerful, yet physically unobtrusive, addition to any network. Like all other DISC storage offerings, Orion shares a common family architecture, ensuring upgradability and maximum usage.

Industry exclusive features, found only on the Orion line, such as the Dynamic Automatic Alignment System truly separate DISC apart from the competition.

| | | | |
| --- | --- | --- | --- |
| Model | Media Slots | # of Drives | Capacity |
| D150U | 140 to 170 | 2 to 8 | 728 GB to 884 GB |
| D245 | 207 to 257 | 2 to 12 | 1076 GB to 1336 GB |
| D280U | 260 to 290 | 2 to 12 | 1352 GB to 1508 GB |
| D525 | 457 to 527 | 2 to 16 | 2376 GB to 2740 GB |
| D525U | 457 to 527 | 2 to 16 | 2376 GB to 2740 GB |
| D1050 | 914 to 1054 | 4 to 32 | 4753 GB to 5481 GB |
| Dimensions | D150 / D245 | D280 / D525 | D525U / D1050 |
| Height | 74.5" (1,866 mm) | 74.5" (1,866 mm) | 74.5" (1,866 mm) |
| Width | 37.5" (950 mm) | 55" (1,400 mm) | 55" (1,400 mm) |
| Depth | 26" (650 mm) | 26" (650 mm) | 36" (900 mm) |
| Weight | 800 lbs (363 Kg) | 1,000 lbs (454 Kg) | 1,150 lbs (521 Kg) |
Barcode Inventory Option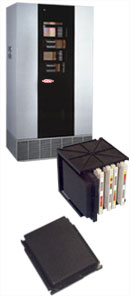 Features
DISC's exclusive Barcode Inventory Option contributes to the operational efficiency of the Orion Series product line.
Packaged in a portable, media-sized module, that occupies only two media slots, DISC's Barcode Inventory Option dramatically reduces inventory time and retrieval of archived media. Compliant with standard SCSI commands and emerging IEEE standards, the Barcode Inventory Option automatically re-indexes the media after any intervention, guaranteeing a continuously updated catalog of data for users. Capable of reading a variety of standard and custom barcode labels, the largest benefit is the elimination of manual indexing of disks, resulting in an efficient and automatic solution to ever-expanding storage compilations.
Dynamic Automatic Alignment System

An industry-leading feature found only on DISC nearline storage systems.
After reaching a predetermined usage level, the storage system will automatically perform a self-correcting, diagnostic program to ensure that the robotic picker has maintained proper alignment. The result is less media-delivery failures, less system downtime and continued productivity.
Scanners and Imaging Boards:
Agfa
Cruse
Fujitsu
Kodak

Storage:
Disc
Hewlett Packard
Plasmon


Document Management Software:
Saperion
Cardiff
Paper Vision
SWT





Miscellaneous:
Bookeye

Fax Products:
Captaris
Dialogic