Automate the Processing of Forms and Documents.
The Cardiff TELEform® family of Information Capture products are used to replace manual data entry with the automated processing of forms and documents. TELEform converts paper into online information for database, XML and content management systems, and allows organizations to apply business rules to clean and verify incoming information. TELEform versions are available for desktop form processing, department-level data & document capture, and enterprise high-volume Information Capture applications.
Why do organizations select TELEform Enterprise?
TELEform reduces the time and costs associated with data entry by up to 900%
TELEform automatically cleans and confirms data with business rules processing
TELEform delivers data to your organization faster than any other method
TELEform will pay for itself through return-on-investment and improved productivity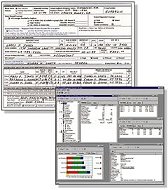 TELEform Enterprise is a scalable network-based solution with no Artificial Volume Limits designed specifically to meet the demands of high-volume data and document capture. TELEform network components -- Designers, Readers, Verifiers and Scan Stations -- are deployed in the exact combination needed to meet your throughput targets. IT-level administration and load-balancing controls are delivered via TELEform Control Center, a native snap-in for Microsoft Management Console.

Rapid Deployment is key to the success of an enterprise solution, and TELEform Designer is the fastest way to get your project into production. This point & click tool will allow your organization to implement Information Capture in 75% less time than systems that require manual configuration. The Designer adds processing rules, custom validations and allows you to connect your application to 8 export Connect Agents simultaneously. Documents are routed to content management systems, including IMR, FileNET, OTG and Open Text, while data is sent to ODBC, XML and other data back-end systems.

TRI-CR is the powerful neural-based recognition system for TELEform Reader, which automatically interprets hand print, machine print, check boxes and bar code information for forms processing and document capture applications. TELEform Enterprise includes automated image compression capabilities that speed the processing of scanned information between Reader and Verifier in your TELEform network.
Connect Agents automatically connect data with Enterprise platforms, including Microsoft SQL Server, Oracle and XML data applications, and can archive completed forms and documents into content management applications, including those from IMR, FileNET, MosaicSoft, Open Text, and OTG. Custom Connect Agents can also be easily created.
TELEform includes a wide range of pre-made Input Connect Agents which provide point & click connectivity to scanner, fax servers, and XML systems. Cardiff supports leading Fax Server products, as well as scanners like TWAIN, ISIS and proprietary device dependent interface (DDI) cards from nearly every commercial supplier, including Bell & Howell, Canon, Fujitsu, HP, Kodak and Kofax.
TELEform is a powerful data collection and processing system for Web and corporate eForms. Simply add the optional Cardiff HTML+Forms or PDF+Forms products and automate/archive your eForms as easily as you do your paper forms.
TELEform's Open Recognition & Capture Architecture supports data capture from hand-held and custom hardware devices. Devices that use standard HTML eForm presentation are supported automatically with HTML+Forms. Custom connections from any device into a TELEform system can be made through Cardiff's Open Data Interface.

Scanners and Imaging Boards:
Agfa
Cruse
Fujitsu
Kodak

Storage:
Disc
Hewlett Packard
Plasmon


Document Management Software:
Saperion
Cardiff
Paper Vision
SWT





Miscellaneous:
Bookeye

Fax Products:
Captaris
Dialogic